OrcaTorch D530V & Snoot Dive Light for Underwater Photography
Shipping

Free shipping worldwide over US$49.

Need it sooner? See if the item you want is available from an authorized dealer near you.
Your purchase makes a difference. We will allocate 1% of our profits to promote the protection of orcas and the preservation of the marine environment.
ORCATORCH D530V & snoot dive light comes with a snoot for underwater photography. The beam angle of D530V is greatly restricted by the snoot, the light can be projected exactly where you want it, eliminating distracting background/foreground elements or giving a spotlight effect.  Snoot can be removed to give a wide beam for your underwater lighting. 


Features:
* Uses CREE LED, max 1200 lumens
* Uses 1*18650 USB Li-ion rechargeable battery
* 8° beam angle with the snoot, 140° beam angle without the snoot
* Easy operation with side titanium alloy button switch,
* Battery indicator
* Safe lock function, prevents misoperation
* Intelligent Over-Heat protection
* Water pressure resistant construction, depth rated to 150 meters
* Reverse polarity protection, to protect from improper battery installation
* Over-discharge protection function
* Aircraft-grade high strength aluminum material
* The latest diamond grade hard-anodized seawater-corrosion-resistance finish
* Two sides coated toughened glass with high water pressure resistance under deep water
D530V & Snoot

 
Take Your Macro Shots To The Next Level
It allows a photographer to create striking images by lighting up one small area of the scene, or highlighting one area of a creature while the rest of the composition falls to black.
D530V

 Max 1200 Lumens Video Light
ORCATORCH D530V is a professional underwater video light with Max 1200 lumens output. It has 140 degrees super wide beam angle without the snoot.
Titanium Alloy Side Button Switch, Easy Operation
The light uses a titanium alloy side switch that offers 2 lighting modes, the high mode 1200 lumens and the low mode 290 lumens, which allows for easy operation underwater. The Safe lock function can prevent misoperation.
Battery Indicator
The LED indicator light located on the switch button also lets you know the battery's remaining charge.
Powered by One 18650 USB Rechargeable Li-ion Battery
Water Pressure Resistant Construction
Aircraft-grade high strength aluminum material, two sides coated toughened glass with high water pressure resistance under deep water 150m
Dimension & Weight
Dimension: 142mm(Length) x 25.5mm(Diameter) x 35.5mm(Head)
                   Net Weight:136g (excluding battery)
What's in the Box?
Included with the light are One USB Rechargeable 18650 Li-ion battery, Micro USB Cable, ZJ18 Ball Joint Bracket, Snoot, Lanyard, Spare O-rings, User Manual, and Warranty Card.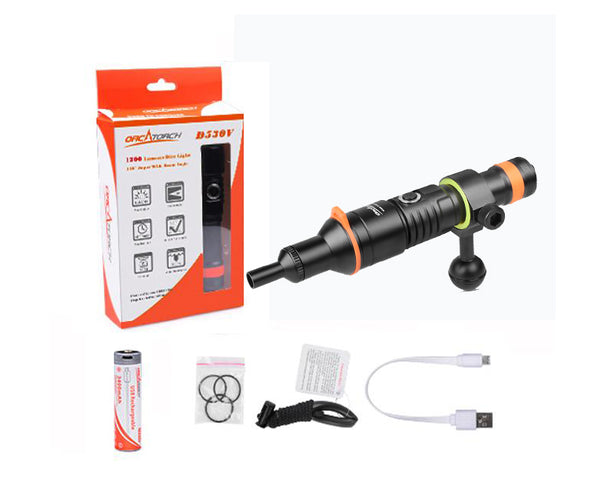 Specifications
ANSI/NEMA FL1
High 
Low
Output

1200 lumen

290 lumen
Runtime
1h 24mins

4h 36mins

Impact Resistance
1m
Waterproof
Underwater 150m
Working Voltage
3-8.4V
Dimension

142mm(Length) x 25.5mm(Diameter) x 35.5mm(Head)

Net Weight
240g(Excluding Battery)
Accessories
One USB Rechargeable 18650 Li-ion battery, Micro USB Cable, Snoot, Lanyard, Spare O-rings, ZJ18 Ball Joint Bracket