Author: Daniel Jacoby
Let's keep this review short: Should you get an OrcaTorch D520 dive lights?
Yes!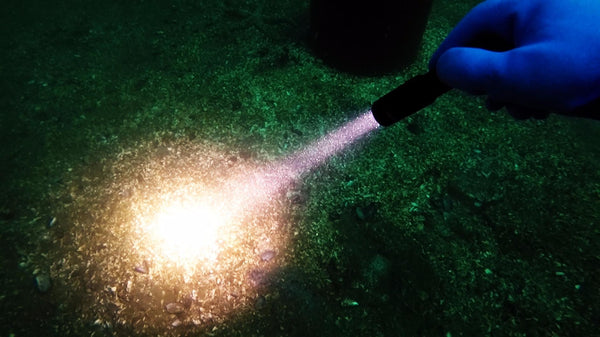 I would like to show you the four fields I personally see the light and experienced it at.
1. As a recreational dive light: With its 2h burn time it will probably last an entire day of diving and with its powerful LED emitting 1000 lumens it sure is a lot of fun during a night dive.
This is complemented by the compact palm-sized form factor and low weight, which makes it ideal for traveling. This also allows it to be stowed away in the pockets of the BCD without being annoying or cumbersome during the dive.

2. As rental gear for dive shops: With the affordable price and the rugged design, it is great as rental gear. I had to experience firsthand a diver throwing his tank on the light but it did not even get scratched due to the hard-anodized finish. Nor did the aircraft-grade aluminum get bend. The only "issue" which we encountered was that our students wanted to instantly buy the lights and we did not stockpile enough of them.

3. Like a light at the surface: Many other dive lights tend to be only useable in the water because otherwise, they would overheat. The D520 does work at the surface as well and with that can be used as a normal flashlight for example when doing a beach walk late at night when the smartphone flash is not enough. Remember, it is barely the length of a smartphone so it will fit in your pockets. Another way I use it is when returning from a lake night dive and needing to light my self so that I can take off my equipment. I simply hang it at the opened trunk door of my car and with that I got a perfectly suitable light source to undo everything.

4. As a backup light for technical diving: The mounting point at the rear is perfect for a bolt snap. I am a real big sucker for design features like that. It is the most streamlined way of mounting it to your harness. It adds so much convenience when clipping it to your D-rings or taking it out of your pouch/pocket. Combining that with the super reliable rotary switch and the triple O-ring design it is ideal for technical diving needs.

Also, worth mentioning is that the light is available in black, silver, red, and blue. For me, black does the job but I can imagine the additional colors will be appreciated a lot by others.
The light comes with a 18650 rechargeable Li-ion battery with multiple protections which makes it really safe. A compact charger that is even able to charge other batteries is included when buying the OrcaTorch D520.
The OrcaTorch D520 gets recommended by me 10/10. It's a perfect solution for my broad needs.