We're with you.
Customers like you are the heart of OrcaTorch, and we always want to do everything in our power to support you. Together, we'll make it through. 
OrcaTorch team has all returned to work for one month and nobody has a symptom. We take proactive steps to ensure the effects of the COVID-19 pandemic do not cause unnecessary burdens on staff in OrcaTorch.

1. Wear masks offered by OrcaTorch.
2. Increase physical space between staff at the worksite.
3. Regular health checks (e.g., temperature screening) of staff and visitors entering our company.
4. Require staff who are ill to stay home with wages.
5. Limit large work-related gatherings (e.g., staff meetings, after-work functions).
Considering the shortage of face masks, we want to help our customers and decide to offer 20 pcs surgical face masks free.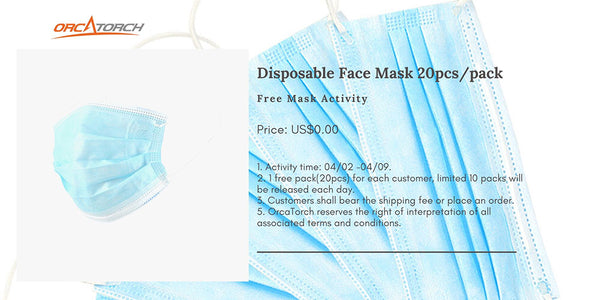 If you need more information, please feel free to ask what you need!
General COVID-19 information
For the most up to date information and guidance on the COVID-19 outbreak, visit the WHO website.